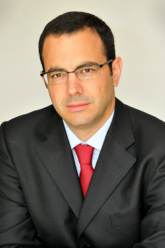 Sebastian Rosato is Associate Professor of Political Science at the University of Notre Dame.

He is the author of Europe United: Power Politics and the Making of the European Community (Cornell University Press, 2011) and has published scholarly articles in several journals, including the American Political Science Review, Comparative Political Studies, International Security, Perspectives on Politics, and Security Studies.

Professor Rosato has been a fellow at the Joan B. Kroc Institute for International Peace Studies at the University of Notre Dame, and the John M. Olin Institute for Strategic Studies and the Belfer Center for Science and International Affairs at Harvard University.

He received a B.A. (Honors) in History from Cambridge University, an M.Phil. in International Relations from Oxford University, and a Ph.D. in Political Science from the University of Chicago.
---